Join us at Kew School of Dance for the festive Showcase Day! Experience a captivating display of dance, song, and drama from our talented students, celebrating themes from enchanted forests to undersea adventures.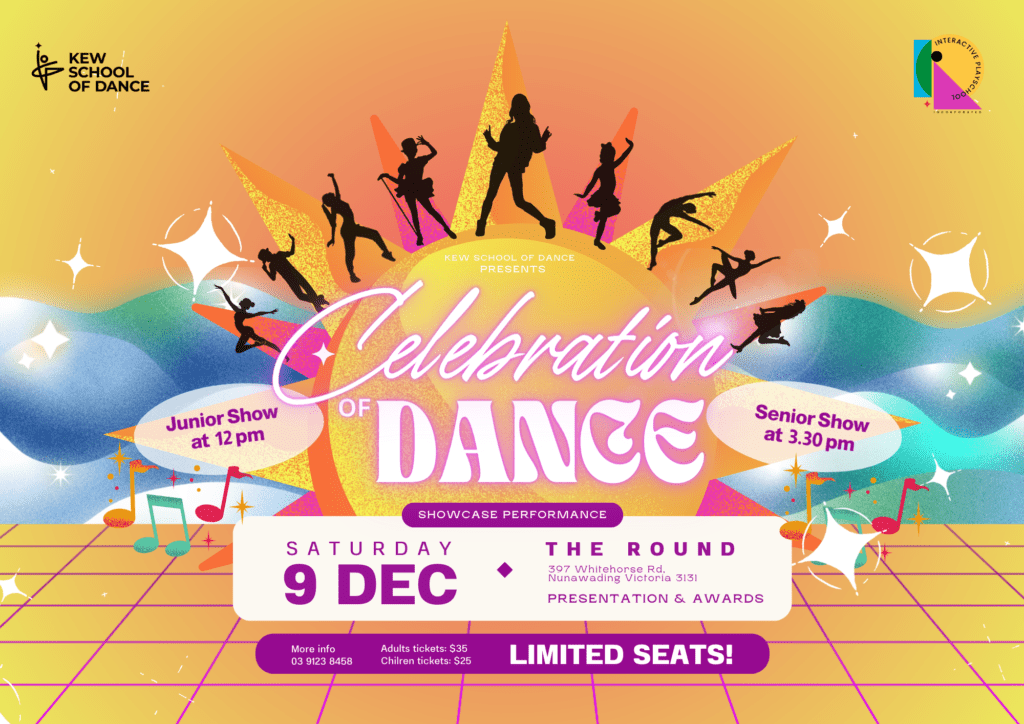 PREPARATIONS FOR SHOWCASE DAY
As we prepare for this spectacular day, please note our usual class schedule will give way to final rehearsals. The studio transforms into a stage of imagination, where every costume stitch and choreographed step comes together in anticipation.
A Carousel of Characters
Our Showcase Day promises a kaleidoscope of themes, each meticulously crafted by our dedicated teachers. From the mystique of Fairies to the splendor of Mermaids, our young performers are set to dazzle, displaying their learned skills and the joyous spirit of dance.
COMMUNITY SPIRIT IN MOTION
Join us on Saturday 30 November 2023
for a day where the heart of Kew School of Dance beats in unison with our community. This not-for-profit event stands as a testament to our collective support, with proceeds fostering the growth of groups within our community.
How to prepare for rehearsal
Studio Rehearsal
On Saturday we will run through the whole show scene by scene at the studio. Students will practice wearing their costumes and follow the run sheet.
Showcase Rehearsal
Rehearsals will be done before the student's performances. Junior Rehearsal at 10.30 am and Senior Rehearsal at 1.30pm
Hair
Please ensure your child arrives at all rehearsals in uniform with their hair done in neat bun. See the links below for reference.
Makeup
All students should have makeup applied for photo day and showcase. Long lasting lip stick should be labelled and placed in the bag for application prior to performance.
PHOTOGRAPHY AND VIDEOGRAPHY
We will be recording the showcase and taking professional photos of the performers in the studio and also performing live at the concert. To access the photos and photos, please select below.
Rehearsal Video
Click here to view a glimpse of the rehearsal process.
Studio Photoshoot
View and purchase individual and group photos for each class. There are professional photos taken of students in costumes.
Showcase Action Photos
Click below to view and purchase action shots of the performers dancing on stageas they perform live. Includes behind the scenes footage and group shot and formations
Showcase Video
Click here to purchase video recording of the entire performance. The video can be purchased as a download version with packages.
$10 off until Showcase day (9 Dec 2023)
Frequently Asked Questions